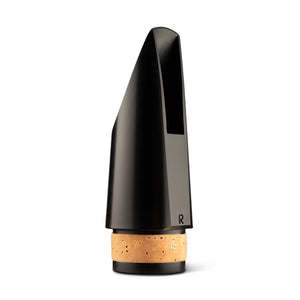 The Ace of Bass

Vocalise Bass Clarinet Mouthpieces by Hawkins and Backun redefine what bass clarinet players and their instruments are capable of. Designed by renowned craftsman, Richard Hawkins, and precision machined from proprietary hard rubber at Backun, the four models personify the future of bass clarinet playing. Like all Vocalise Mouthpieces, the bass models are suitable for both synthetic and cane reeds, alike.
R
Close/Short
Unwavering in precision and stability, with a luminous tone that captures the essence of each register. Hawkins's recommended model for students and school programs.
G
Medium/Medium
A warm and centered core that sustains fluid articulation, contributing to an expansive tonal palette.
H
Open/Long
Smoother intervals and easier response are balanced with a robust sound that projects with confidence. The most open of the bass models.