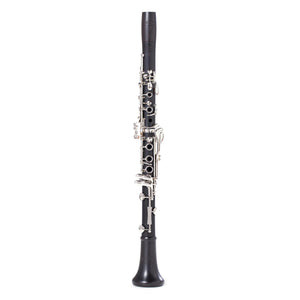 *These like new Beta clarinets play INDISTINGUISHABLEY from brand new.  Used in demos at music industry trade shows.  May have a scuff or two and slight dulling of the keys.  Includes better-than-factory warranty (3 years instead of 2).  Save over $700!
-As always, all instruments are professionally set up at NCW
-As always, if you don't love it, send it back within two weeks for a full refund
Choose from nickel-plated keys, silver-plated keys, and silver-plated keys with optional left hand Eb lever.
Your first wooden clarinet
For intermediate students looking to own their first wooden step-up clarinet, the Beta offers unparalleled value and beautiful out-of-the box playability. Featuring unstained, naturally-aged grenadilla wood, the barrel, body and bell are all crafted in Canada from the exact same wood used for Backun's professional and custom clarinets.
With a comfortable blowing resistance and an ergonomic key work mechanism, moving up to the Beta clarinet is a breeze. Water resistant custom black leather pads, an adjustable thumb rest with neck strap ring, and a durable hard shell case round out an impressive list of features at an even more impressive price.
Includes: One Beta Barrel, One Backun Bell, Mouthpiece kit (mouthpiece, ligature, cap), Custom Case, Swab and Cork Grease.